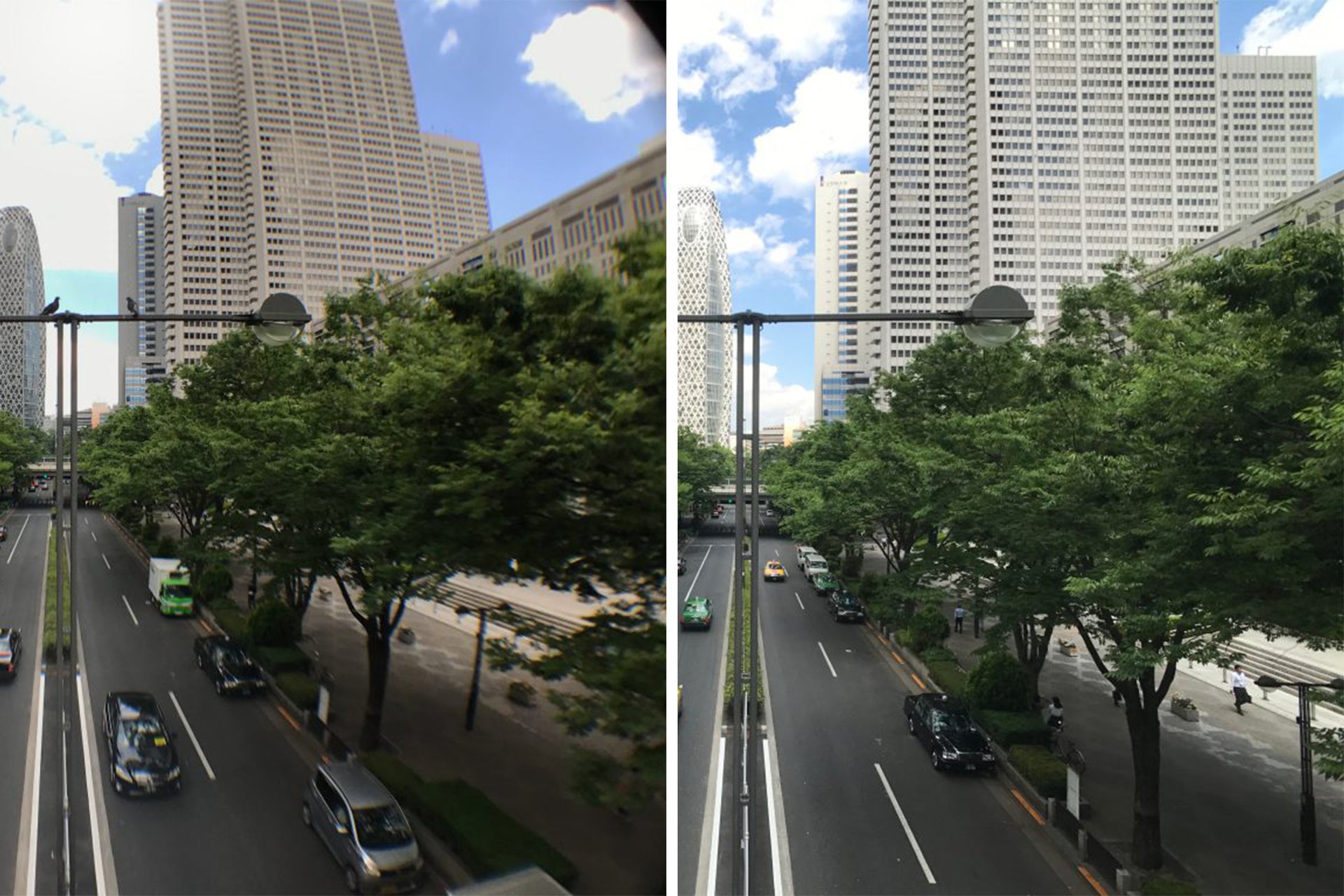 tokyo grapher's commitment
Incorporate respect for the iPhone camera performance into the product
The camera function of the iPhone cannot be said to be a mere added value of the smartphone. Now, the F value is astonishingly bright at 1.8, and the angle of view is equivalent to 28mm. This is another great camera. tokyo grapher faces this "camera" head-on and continues research to restore the iPhone's original image quality that was lost with conventional attachment lenses. As a result of that research, it has become an attachment lens system that does not impair the performance of the iPhone camera at all.
In this blog, I would like to talk about how to incorporate that "obsession" into product development, and what meaning (effect) it has as a lens system. I will explain while comparing with the image taken with a general lens.
---
Attention to detail
Please see the three images below. Images taken from the top with no lens, a clip-on type wide-angle lens, and our company's Wide Lens (former name: Zero-Distortion WIDE LENS PRO).
This difference is due not only to the performance of the lens itself, but also to various other factors such as brightness, vignetting at the four corners, flare/ghost, distortion, and the precision with which the lens is fixed. Now let me explain them one by one.
---
brightness difference
The clip-on type cannot maintain the original brightness. It can be inferred that this is due to the fact that the lens material is made of plastic, which is inexpensive and easy to process (which can be processed on a low budget). On the other hand, we are particular about not impairing the brightness, and although it is expensive, we use glass that is highly suitable for lenses. Furthermore, even in the mass production process, we prioritize quality and produce in Japan.
---
Presence or absence of vignetting
A: Clip-on type attachment wide-angle lens

B: Wide Lens
Next, let's focus on the vignetting on the four corners (top right). This phenomenon is often seen with wide-angle lenses [A]. In some cases, the lens hood simply interferes (insufficient design), and there are physical problems such as insufficient accuracy of the lens mounting position caused by the combination of model and lens. We repeat design and prototyping to avoid these problems. Furthermore, we are particular about the mechanism (mount and case) where the lens is attached to each model, down to a precision of less than a tenth of a millimeter, and we develop and manufacture products [B].
---
flare ghost
A: Clip-on type attachment wide-angle lens

B: Wide Lens
This unintended phenomenon [A], except when the subject is backlit, can basically be minimized [B] by thoroughly designing the lens. Lens development is a cycle of design, prototyping, and verification. In other words, trial and error by a skilled optical designer is required, as well as the enthusiasm to keep sticking to it until you are satisfied, even if it costs money (time and money).
---
distortion
A: Clip-on type attachment wide-angle lens

B: Wide Lens
Normally, photos taken with an ultra-wide-angle lens tend to be distorted by the amount off-center [A]. At our company, we were particular about making this distortion zero (Zero-Distortion*) [B]. By eliminating distortion, it is now possible to take photographs that are exactly as they are seen with the naked eye.
*Zero-Distortion WIDE LENS and Wide Lens (former name: Zero-Distortion WIDE LENS PRO) are products with zero distortion.
---
Accuracy is the key to attachment-type lenses
As mentioned above, you can see a big difference in the attachment type lens.
Even with one attachment method, the clip type is prone to slight misalignment, and the misalignment between the lens and the camera will cause a fatal deterioration in the quality of the photograph.
The lens of tokyo grapher attaches a screw hole type mount to the iPhone case, and by fixing the camera with a screw, it is possible to shoot with high image quality without any deviation.
In order to make the best use of the iPhone's wonderful camera and expand its possibilities, it is necessary to have a "feelings" for every precision of the lens.
tokyo grapher aims to create products that meet your "obsession".
|||article-btns/wide/1424710795382|||