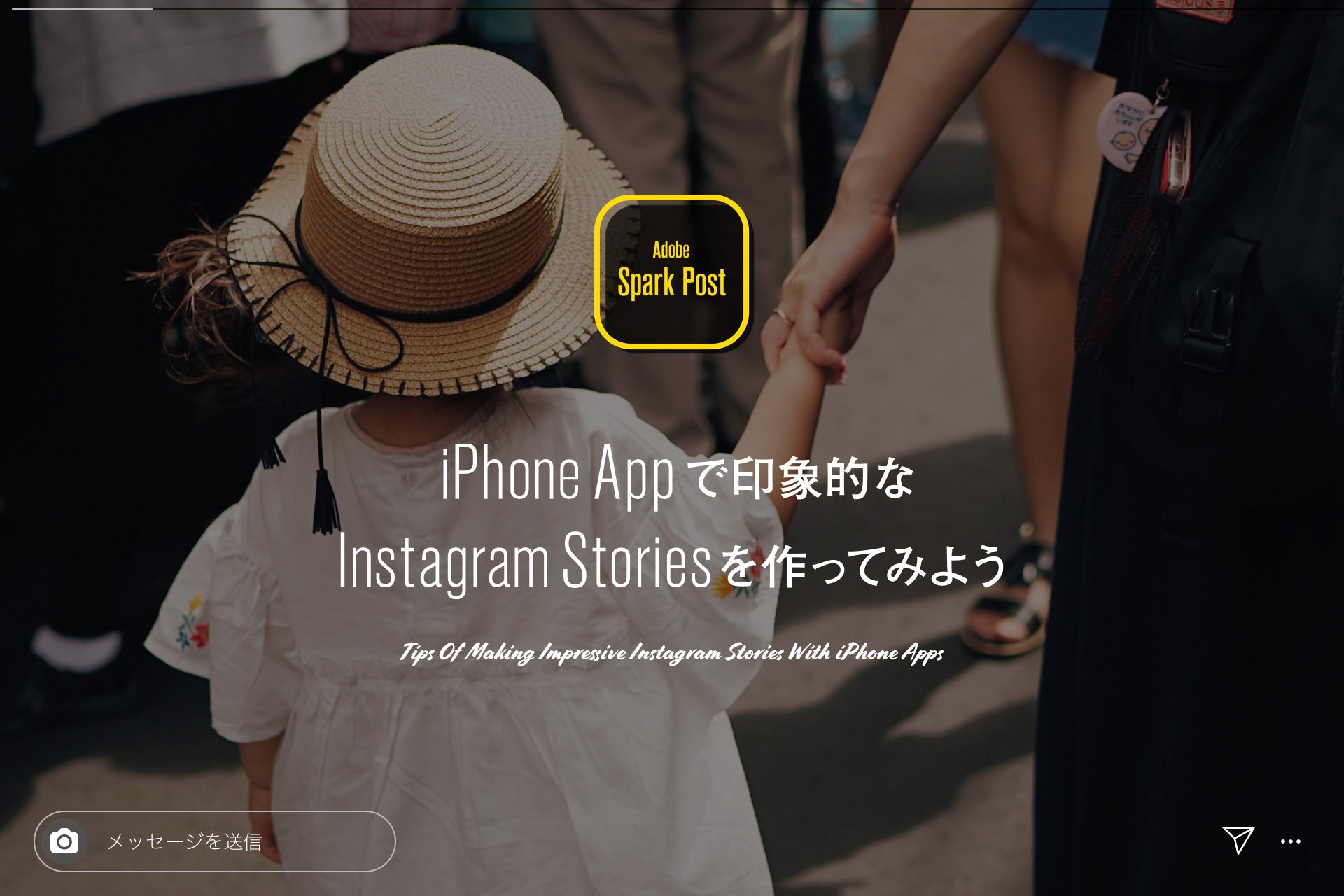 Impressive with iPhone App
Create Instagram Stories
"Adobe Spark Post"
Hi, I'm Johnny ( @johnny777 ) who writes about Hong Kong.
Do you use Instagram Stories?
You can easily arrange photos and videos with stamps and text, and there is also a questionnaire and question function, which makes it easy to communicate.
Looking at the stories of accounts with a large number of followers, I often see videos and collages that combine photos and videos taken.
Anyway, I've been posting stories with movement recently, but actually, anyone can easily create them using the app!
I would like to introduce some of the most popular apps for posting stories, along with examples.
This time we picked up "Adobe Spark Post" !
---
"Adobe Spark Post"
A template-rich app recommended for design-conscious people
The templates are professionally designed and added every week, so you have more choices than other apps.
I have used various apps, but the high quality and variety are different from other apps .
As you can see, lots of cool templates! Now let's actually create the stories.
how to make
1

.
choose a template

After choosing a template, tap "Remix this template" .
2

.
Select the photo you want to use

When you tap a photo, an icon appears below. Tap "REPLACE" and select the photo you want to use from the camera roll.
3

.
change character

Next, when you tap the letters of SHANGHAI, the "EDIT TEXT" icon will appear, so tap it and retype the letters.
4

.
Complete!

Tap "Share" at the top right of the screen and select "Save image" to save it to the camera roll.
Just by choosing a template and replacing the photos and text, you can easily create cool stories.
If you choose a template that uses the same type of photo as the photo you want to use, you can complete it in less time.
There is a template called "Animation" that I would like you to use in Adobe Spark Post.
It is a template with movement in the characters, and the movement and fonts are rich in variations. However, "Adobe Spark Post" cannot add movement to the photo itself .
We recommend "mojo" if you want to add movement to your photos, and "Adobe Spark Post" if you want to focus on the movement of fonts and text .
---
An example of using a template
Now, I will introduce the stories I actually made with Adobe Spark Post along with the templates!
the template of your choice

Stories that were actually made
I used an animation template with large letters and a photo as the background.
In creating this story, all you have to do is replace the background photo, retype the large letters, and delete the small letters.
the template of your choice

Stories that were actually made
I used a pop and impactful template to emphasize that I bought a camera on the first day of the tax increase! smile
The only work I did in this story was retyping the purple letters, and fine-tuning the sizes of the white letters underneath.
Quickly change the ratio of the selected template

Stories that were actually made
The 👍 illustration caught my eye, but the default proportions are completely different from those for Stories. But with this app, you can change the ratio to 16:9 for stories with one touch, so you can rest assured.
I changed the color of the background and the color of 👍, but if you use the palette function, you can adjust the color of the background, text, and illustration with a single touch . It is very convenient not to have to change each one.
Change the characters, move the location, insert the GIF, and you're done.
Adobe Spark Post has a GIF search function , so it's easy to find the GIF that matches your post.
I appreciate that it also supports Japanese search.
---
Other things you can do
I will briefly introduce what you can do with this app other than the functions introduced so far!
Optimize your design with one touch
The layout can be changed with one touch while making use of the basic design.
It automatically adjusts fonts and layouts that tend to be troublesome.
You can edit photos
You can also edit the brightness and color of your photo.
There are 8 types of filters, so it's convenient to be able to do everything from photo editing to posting at once.
can post directly
Once completed, you can post it as is. You can choose between Stories and regular posts, so you can create a ratio of 4:5 and post normally.
Basically free. If you subscribe to Adobe Creative Cloud, you can also use the paid version!
Adobe Spark Post is also basically free to use.
However, there are restrictions on the templates that can be used and watermarks are included, so if you want to use other templates or are concerned about watermarks, you should upgrade to the paid version (¥1,100/month or ¥11,200/year). .
People who subscribe to the Adobe Creative Cloud complete plan can use the paid version at no additional charge .
With Adobe Spark Post, you can easily create a cool story using a full-fledged template, so please give it a try!
---
mojo
An app recommended for those who want to create moving stories
"mojo" is recommended if you want to create stories that can move photos! Please also take a look!
---
Johnny
Instagram: @johnny777
Born in 1988 Born in Saga Prefecture Lives in Tokyo Graduated from Waseda University Art School, Department of Architecture and Urban Design
Fascinated by shooting with an iPhone, he entered the world of photography.
The main theme is a minimal urban landscape that is conscious of space and scale, light and shadow.
In 2017, it was adopted for Apple's "shot on iPhone" campaign and posted as billboard advertisements in 25 countries around the world.
2018 Unsplash Awards street photography category winner