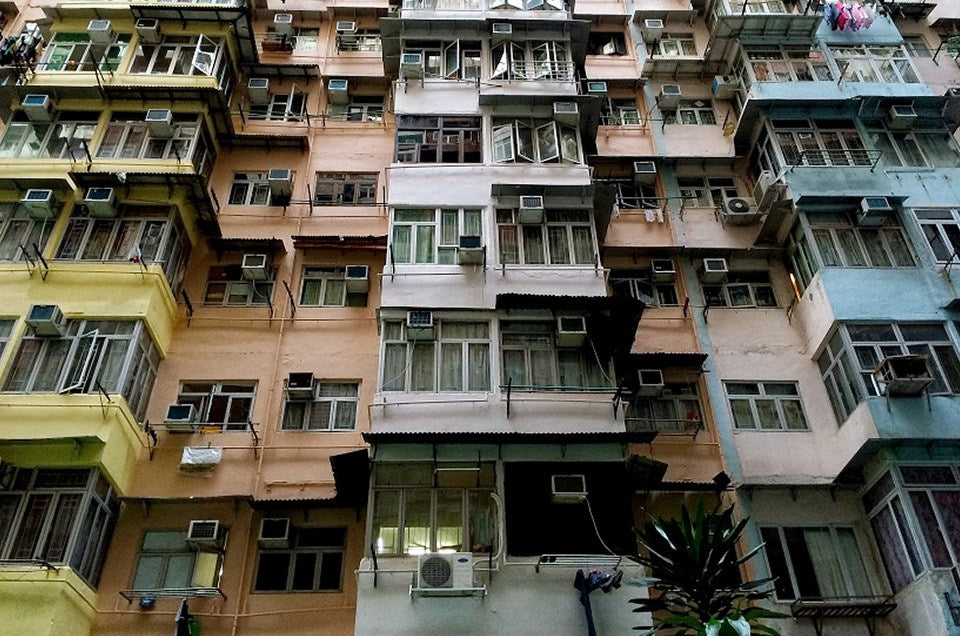 Traveling back to my hometown, My Hong Kong Island Tram Trip Vol.3
Well, let's finally go to the super-dense apartment. For first-timers, we recommend going by MTR (subway) rather than by tram. It's hard to know where to get off the tram. The apartment will be in Quarry Bay, but if you take the MTR and get off at Tai Koo, get off at Exit B and look around, you will gradually see that curved apartment. I'm excited. The entrance to the courtyard is between the butcher shops facing King's Road, where trams run.
Five buildings, ``Fok Cheong Building'', ``Hoi King'', ``Montane Mansion'', ``Yick Cheong Building'', ``Yik Fat Building'' residential building. The 1st floor has an old-fashioned hair salon and a stationery store.
When you visit here at night, the many window lights illuminate the sky like towers of light.
As I look up, I am deeply moved by the fact that each person has their own life under the light.
If you stop shooting and look at the open sky in the square, you may see a small plane passing by!
When I went to Taikoo Shing City Plaza to look for this apple art object, I was exhausted at the end because the apple was Taikoo Place. Even though the names of the malls were similar, it was one stop away, so I walked back again in the heat.
Now it's time to head out to the city of Kowloon Peninsula on board the Star Ferry for a great trip at a great price.
Text & Photography by Nobuko Kamiya ( @sunday_722 )
Photographic equipment/iPhone 6s + tokyo grapher
|||article-btns/wide/1424710795382|||