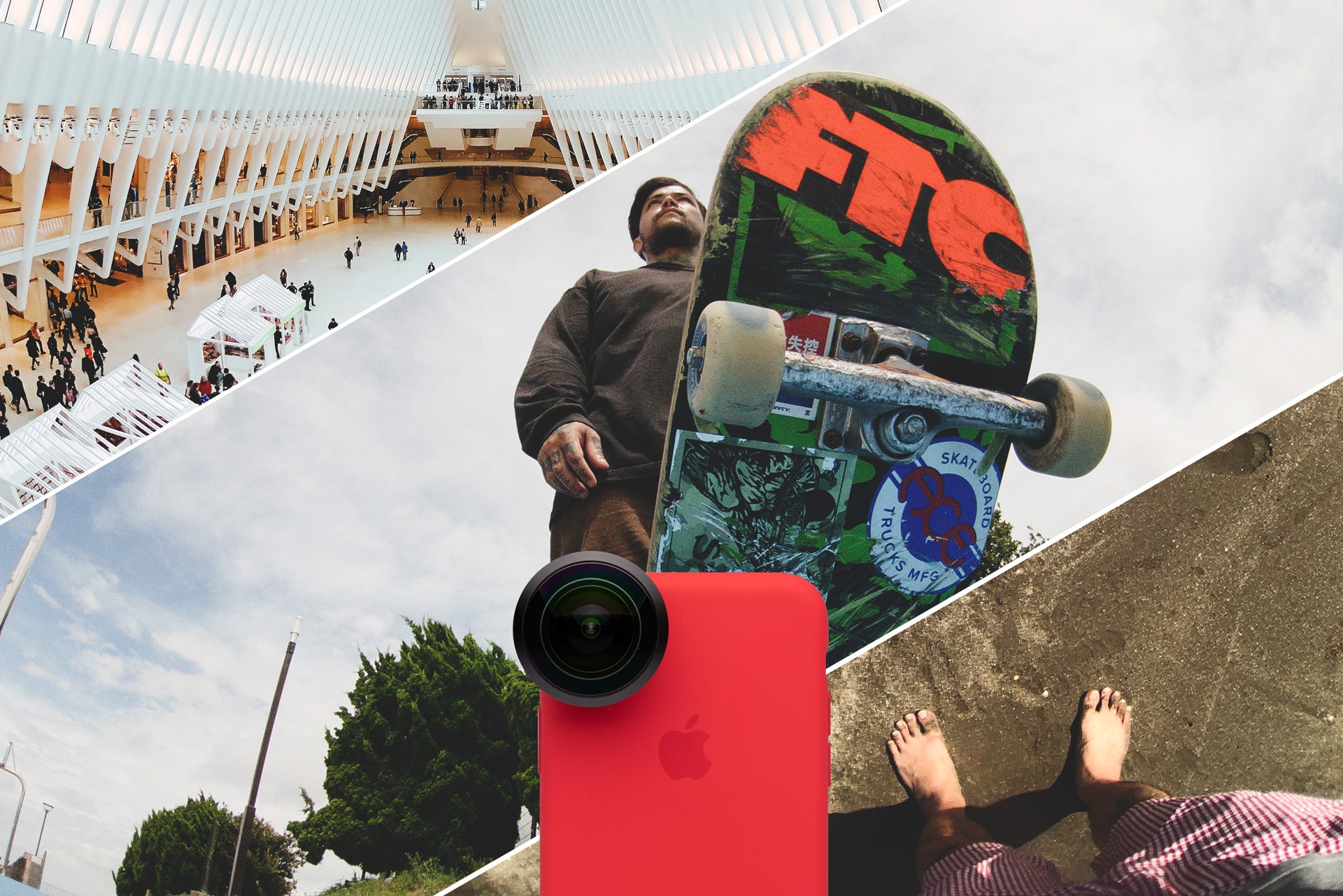 Fisheye lens FISH-EYE 220 utilization report
This is Taguchi ( @tak-tag ), a tokyo grapher ambassador. Today, I would like to report on the tokyo grapher iPhone attachment fisheye lens FISH-EYE 220, which was released the other day.
In fact, until I used the tokyo grapher FISH-EYE 220, I was not good at fisheye lenses, and thought, ``The unique distortion and wide angle of view will limit what you can shoot. But when I actually used it, I was able to easily take interesting pictures in various scenes. It's easy to match even in scenes where you want to match the center, and when you look at a picture that makes use of distortion, you can say, "Oh, that's not it. It's not like this, so you can shoot in a variety of ways in one place, so it's a great way to enjoy yourself!
Here are 6 recommended ways to use the FISH-EYE 220 fisheye lens.
|||article-btns/wide/1424513925238|||
---
The fisheye lens is fun whether you look up or down!
This photo was taken from the rooftop of Tokyu Plaza Ginza overlooking the Sukiyabashi crossing, but the feeling of being able to capture from your feet to the top of the building on the diagonal side of Tokyu Plaza with plenty of room is an angle of view unique to a fisheye lens. You can take pictures that make your feet shudder.
This is the vicinity of the World Trade Center in New York, and I think that the height of the buildings lined up on three sides is well conveyed. Unfortunately, it was raining lightly at the time, but the FISH-EYE 220 has a water-repellent coating on the lens and has the same level of waterproof performance as the iPhone, so you don't have to worry about getting wet in the rain. I was able to shoot without it.
This photo was also taken in New York, but I included both the new World Trade Center and the impressive walls of New York's newest landmark, Oculus.
At that time, I also had a single-lens reflex camera, but pollen and dust easily adhere to the sensor of a mirrorless camera, so I refrained from changing lenses outside as much as possible. I didn't carry the lens with me.
The Wide Lens and FISH-EYE 220, which you can always put in your bag, are extremely useful when you want to take dynamic landscapes like the photo above.
---
The fisheye lens captures the building from top to bottom.
The interior of Oculus, which you saw in the previous photo, has a pure white floor like a skating rink, and pillars that extend to the impressive ceiling. And you were able to capture the sense of scale in a huge space like a spaceship.
The Tokyo International Forum, which has a similar atmosphere to Oculus when you enter, fits tightly from the characteristic ceiling to the floor below.
---
A super low angle shot only possible with an iPhone + fisheye lens!
This photo was taken the other day when I went to shoot a promotional video for tokyo grapher, and I was allowed to take a picture of a professional skater who appeared on the show. So, I looked up and took the shot with the iPhone on the ground.
It is extremely difficult to capture this angle with a single-lens reflex camera or mirrorless camera, and it is powerful only with the iPhone and FISH-EYE 220.
What's more, I don't think there is any other fisheye attachment lens that captures everything from the skateboard graphic in the foreground to the face in the background. I can confidently recommend the performance of the world's highest level on the official website.
---
Perfect for group photos in a small space!
This is a scene at a banquet with Instagram friends. It was a banquet with a large number of people in a fairly small space, so it was difficult to capture everyone in one shot, but the FISH-EYE 220 that I had in my bag was very useful at such times!
If you look closely, you can see someone taking pictures with RICOH THETA on the opposite side, but the FISH-EYE 220 can take equally interesting pictures, and since the camera is an iPhone, there is no need to worry about batteries and it is also heavy. It weighs only 53g, so it's convenient to keep it in your backpack at all times.
---
A fisheye lens that is also useful for close-up portraits
This is a picture of my daughter when I went to the beach with my family the other day. And the feeling of the sea and the sandy beach comes out well. When I go out with my child, although I have a mirrorless camera in my car, it's very difficult to hold the camera in one hand and play with it. Wouldn't you like to capture it in a photo?
Even at such times, tokyo grapher's attachment lens is very active, and if you take a portrait with a fisheye lens like the FISH-EYE 220, it looks like it will be a strange picture, but this lens has distortion from the center to the periphery. The feeling is more natural, and the rendering performance in the center is particularly excellent, so it can be used for portraits as shown in this photo.
---
The weak point is that it shows too much. w
The only weak point is that the angle of view is so wide that if you're not careful, your foot or the finger holding the iPhone will get inside. 220 degrees means that even the back of the iPhone can be accommodated, so it may take some getting used to. In this photo, my feet are in the bottom right, and my fingertips are in the top right, but in this one, my feet look beautiful, so I felt like I put them in on purpose, and it turned out to be an interesting photo. .
---
By the way, the FISH-EYE 220 cannot be stored in the Lens Case (sold separately) due to its size, but I carry it around with the cap attached to the bottom of the lens case like this. I'm here.
The FISH-EYE 220 that I am using is a prototype, so the shape is slightly different from the FISH-EYE 220 that is on sale. Please be careful.
---
In addition to these shooting methods, I think there are various interesting shooting methods unique to the attachment lens, so please enjoy creative shooting with the FISH-EYE 220. When posting on Instagram, please tag #ShotOn_TG and #TG_FISH220 ! We are looking forward to your photos!
Takahiro Taguchi
Instagram: @tak-tag
Producer, Creative Director, Designer.
In addition to shooting with an iPhone, he also shoots with a variety of cameras, from film cameras to drones, exploring new ways of expression. Founder of Hueart ( @hueart.life ), a community for enjoying photography.
|||article-btns/wide/1424513925238|||