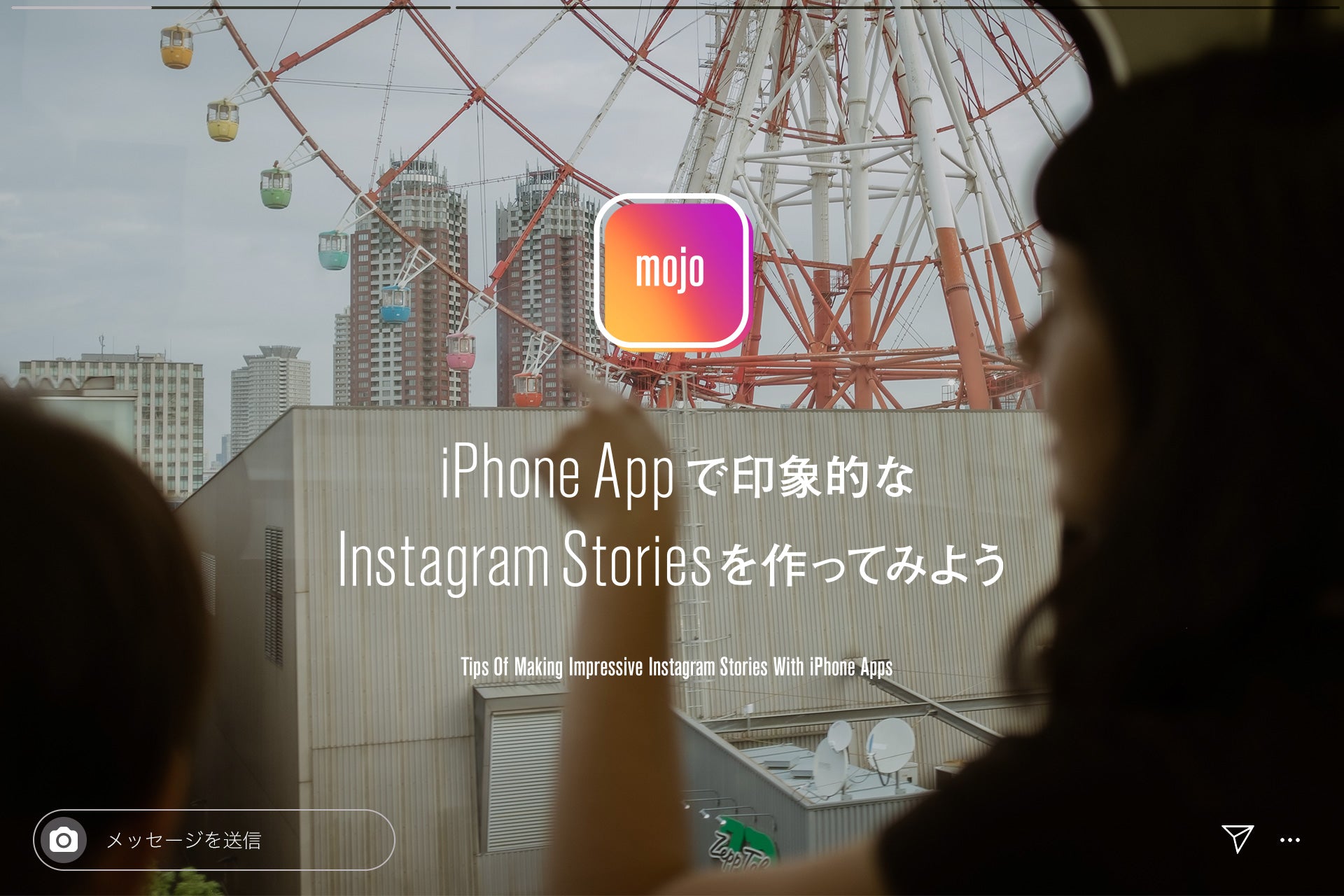 Impressive with iPhone App
Create Instagram Stories
"mojo"
Hi, I'm Johnny ( @johnny777 ) who writes about Hong Kong.
Do you use Instagram Stories?
You can easily arrange photos and videos with stamps and text, and there is also a questionnaire and question function, which makes it easy to communicate.
In the stories of people with many followers, we often see videos and collages that combine photos and videos taken.
Anyway, I've been posting stories with movement recently, but actually, anyone can easily create them using the app!
I would like to introduce some of the most popular apps for posting stories, along with examples.
Picked up "mojo" this time!
---
"mojo"
Create stories with moving photos
Have you ever seen a story like this?
If you use the app "mojo" that I will introduce this time, you will be able to create stories like this. First of all, please see how to make it.
how to make
1

.
choose a template

Launch the app and select the template you want to use.
2

.
Select the photo you want to use

Tap the gray area to select the photo you want to use from your camera roll.
3

.
change character

Next, when you tap the sample text (Northern Europe), a keyboard will appear, so change it according to the content of the post.
4

.
Complete!

When you tap the word save on the upper right of the screen, three icons will appear, so tap the save mark to complete saving to the camera roll.
You can create a cool story that catches your eye just by using a template like this and changing the photos and text.
---
An example of using a template
Now that I've covered the basics, I'll explain what template I used and what I did with the stories I made with mojo.
the template of your choice

Stories that were actually made
This template is a template in which the photo is displayed while zooming out, and then the text comes out.
It looks cool if there is a zoom out effect even a little, rather than just putting text in the place where the photo is displayed.
All I did in this story was add a photo, change the text effect and change the caption.
the template of your choice

Stories that were actually made
Since there is also a before-after template, it was also useful for stories comparing how much the angle of view changes with and without the lens attached.
I just added a photo and changed the caption.
Stories like this that seem to take time can be completed in just a little time if you use a template.
the template of your choice

Stories that were actually made
There is also a template that can notify you of newly posted photos like this.
I greatly arranged the original template, added a lot of NEW POST characters, and changed the animation. I tried to get people to come and see the post by showing a sneak peek in the story.
When I post, I put on uptempo music.
mojo has 60 songs divided into various situations and genres.
There are up-tempo songs and calm songs, so you can create an atmosphere for your photos and videos by adding songs that match your story!
---
Other things you can do
In addition to changing fonts and animations and inserting music, let's briefly introduce what you can do with mojo.
You can make multiple at once!
You can create multiple stories at once, such as when creating travel highlights, so you don't have to save them one by one.
Use moving stamps
You can use GIF stamps like instagram stories.
It is a pity that there are few variations.
can adjust the time
You can adjust the timing of characters and stamps, so you can display the time difference such as photo → text → stamp. You can also adjust the overall scale.
background can be changed
Like the first template I introduced, the background is basically white, but you can of course change the color and use a photo or video as the background.
can post directly
You can post directly to Stories without having to save each one to your camera roll and open Instagram.
Start with the free version
Mojo is basically free to use.
However, there are restrictions on templates and character animations that can be used, and mojo credits are included, so if you want to use other templates or are concerned about mojo credits, Pro version (¥1,150/month or ¥4,500/year) you should upgrade to
With mojo, you can easily create cool stories in no time at all by adding a little arrangement to the characters and backgrounds, so if you're interested, please try using the free version!
---
Adobe Spark Post
A template-rich app recommended for design-conscious people
An app with outstanding ability to arrange characters and templates, and an abundance of materials! Matching please see!
---
Johnny
Instagram: @johnny777
Born in 1988 Born in Saga Prefecture Lives in Tokyo Graduated from Waseda University Art School, Department of Architecture and Urban Design
Fascinated by shooting with an iPhone, he entered the world of photography.
The main theme is a minimal urban landscape that is conscious of space and scale, light and shadow.
In 2017, it was adopted for Apple's "shot on iPhone" campaign and posted as billboard advertisements in 25 countries around the world.
2018 Unsplash Awards street photography category winner