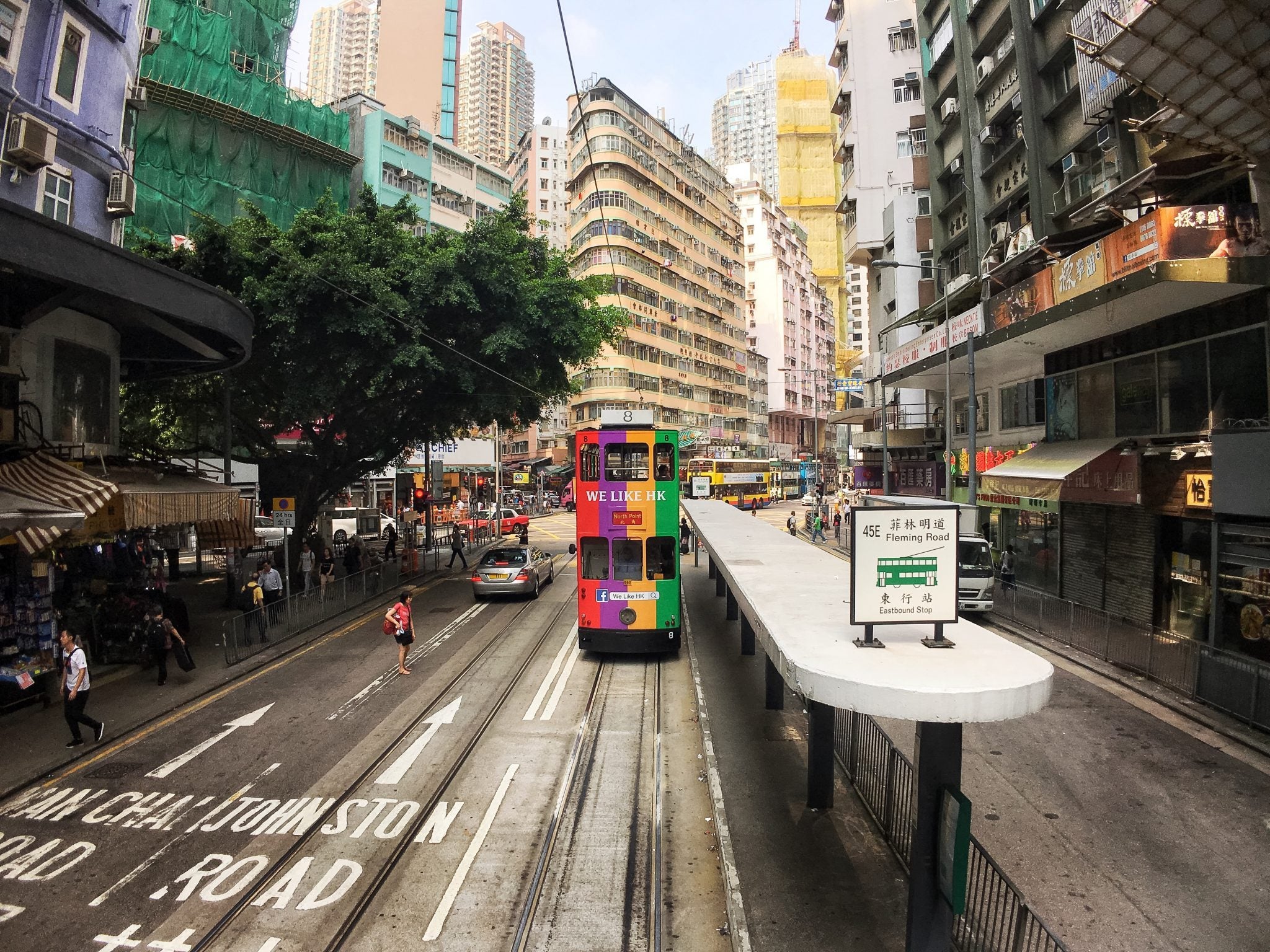 A journey back to my heart, My Hong Kong Island Tram Trip Vol.1
My encounter with Hong Kong changed my life. Even though 20 years have passed, my friends warmly wait for me to say "Welcome home". I come back home every year.
I used to go to Hong Kong every month for work, and my work with Hong Kong ended, but before I knew it, we became friends like family.
There are no preparations to go, it's a big city, there are many convenience stores, and above all, it's a city that never sleeps. Just thinking about it makes my heart dance.
We traveled by tram around Hong Kong Island, where we usually only used the subway and didn't have a chance to look at the townscape leisurely. This time I rode from the western outskirts to Shek Tong Tsui to Tai Koo Tai Koo. Fare: You can enjoy it for about 35 yen.
Shek Tong Tsui Shek Tong Tsu This place is very convenient because of the new MTR (subway station) Hong Kong University Station. The powerful road from this old curved mountain road is impressive, and the high viaduct running between the apartments is a slider that goes to the sea.
The trams start heading east, and all trams are wrapped, so it's fun just to look at them. The tram that starts from the west end takes you to the food kitchen of Hong Kong people, and the Sai Ying Pun takes you to a market lined with seafood specialty shops. Get off the tram here and take a short walk. While commuting in front of dried fish, it is a surreal sight, but I recommend buying dried shrimp here.
Tram to the center of Hong Kong Island, Central, skyscrapers, financial center of Asia. An exciting shopping mall, a place that made me think "Hong Kong is amazing!" A place that made me laugh out loud. I needed a wide lens to shoot high and wide Hong Kong, so this time I brought a tokyo grapher Wide Lens (former name: Zero-Distortion WIDE LENS PRO).
Wan Chai is my favorite after passing through Central. Here in Hong Kong, historically old streets are preserved. The Kakumaru Building is one of them, and you can see it from the front row of the tram. Shall we take a picture of the building that we have seen off again when we turn back?
Do you want to get off the beaten track and explore the charming restaurants converted from old pawn shops, the old post office and the streets where colorful apartment buildings have been preserved?
A wonderful restaurant that refurbished the 100-year-old pawn shop "Washo Daioshi". The name "Pawn" means pawn shop in English.
Text & Photography by Nobuko Kamiya ( @sunday_722 )
Photographic equipment/iPhone 6s + tokyo grapher
|||article-btns/wide/1424710795382|||